Breakfast/lunch pick up went well. Parents and students reach out to your teachers for help if needed. Stay well.

Starting Monday, March 23rd free meals for all children 18 & under. Monday-Friday at 3 pick up locations: circle drive 7:30-9:00AM Hwy 79/Pioneer & 13851 DMC Hwy 34 7:30-8:30AM Do NOT get out of your car meals will delivered to you. Call Alice at 319-392-4221 to request meals.

Call the elementary office by Friday at 4 if you are interested in the breakfast/lunch pick up. See the District Facebook page for times and locations.

From John Lawrence, Junior High/High School Principal If teachers are posting assignments that need poster board, we have about 125 individual poster boards in the office for pick-up tomorrow. First come basis.

JH Choir members who paid for shirts/sweatshirts, they will be ordered next week! If you would still like to order one, forms are in the superintendent's office and must be paid for by the end of this week.

Dinner theatre is postponed, checks for tickets will be mailed back. Those who paid cash can pick up their money in the superintendent's office.


The Danville Community School District will be closed through April 10th, with our first day back on Monday, April 13th. The Iowa Athletic Union and Association has suspended all practices and no coaches contact until the 13th. This four week closure could be extended if circumstances warrant. During this time of anxiety and uncertainty we want to thank you for working with us as we navigate this health crisis. Tomorrow our teaching staff will be working on an education plan for all students in the Danville CSD. We will schedule times that this information, either hardcopies or online access will be available. Also, for those students that need to pick up computers, times will be set-a-side for that. If you have questions concerning the education process, direct those to the building principal. All other questions can be directed to me directly at
Thomas.ward@danvillecsd.org
or 319-392-4223 Ex 309. Abby Tuttle, Food Service Director, is working on a plan to get bag breakfast/lunches out to those students requesting them. At this time the plan would be to start on Monday, March 23rd with three pickup points. One at the school and the other two at the two designated pickup/drop off points in Middletown. If you would like to be counted in this please call the Elementary Office at 319-392-4221.

The Daycare will be closed starting tomorrow March 17 through April 10. It will reopen April 13.

Daycare will be open March 16th with more information to come tomorrow.

Governor Kim Reynolds has recommended school closures. A press conference will be held tomorrow with further details. DCSD will be closed starting tomorrow, March 16th, 2020. Further updates and information about learning and meals will be communicated tomorrow. No staff are to report to school as well.

The Quiz Bowl meet scheduled for Mon, March 16th at Van Buren has been cancelled.

Danville Booster Club is now hiring a Concession Stand Manager for the summer sports season (May-July) and next school year (late August-mid May), pls contact Tisha Molle or Heather Heffelfinger Henkelvig if interested in either or both positions for salary and job description.

Career Fair @ SCC for 5th and 8th graders on Mon and Tues has been cancelled.
Please see following letter regarding Corona Virus and our school.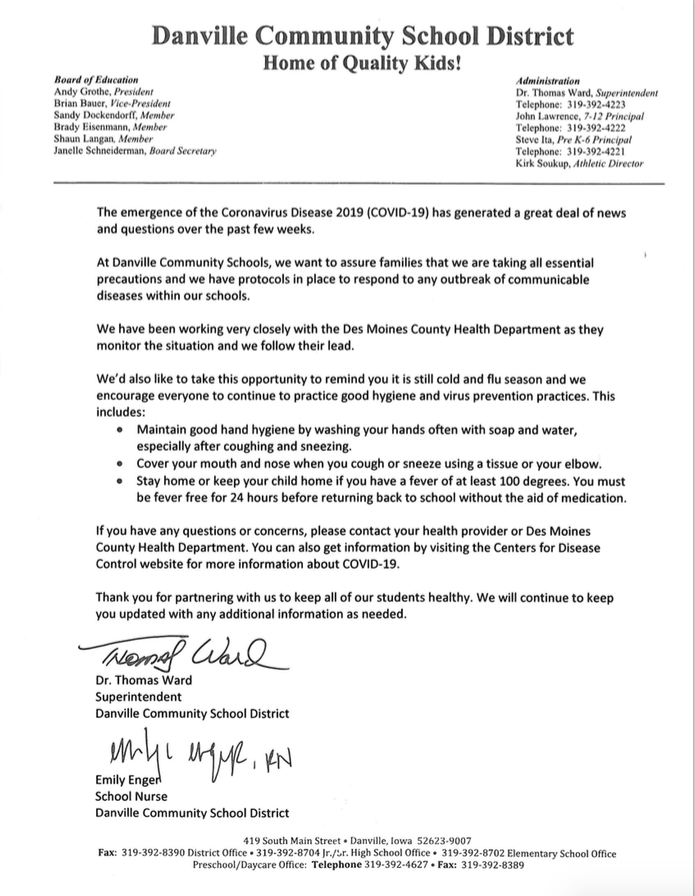 Now's your last chance to purchase this year's K-12 yearbook. Click here to buy online, or turn payment into the high school office by April 1st. Click Here to Order Online:
https://wpcgo.yearbookforever.com/JfnpW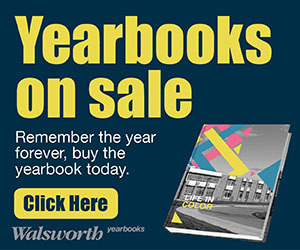 Reminder: Due to Parent / Teacher conferences, Tues (3/10/20) and Thurs (3/12/20) will be early out days (same as Wednesday schedule). Also reminder that there is no school on Friday (3/13/20).

Reminder: Elementary Fundraiser can be picked today, Wednesday 2/26/20 from 2:00pm - 5:00pm in the multipurpose room
Due to impending weather, the FFA Week committee has voted to move all FFA Week activities to next week. The dinner will be next Monday, March 2nd at 5:30 pm at the Danville Community Building. The SILO movie showing will follow at 7 pm at the Danville Fire Department.