HS Softball will now play a JV/V doubleheader against Mediapolis @ Mediapolis on Thursday (7/9/20) with JV starting at 5:30pm.

Tonight's (7/6/20) baseball games will be Varsity first at 5:30pm followed by JV.

Tonight's (7/6/20) JV/V Softball games Vs New London at New London have been canceled. No makeup date.

The HS JV/V baseball games for tonight (6/29/20) have been moved from West Burlington school to Community Field in Burlington. Start time is 5:30 pm.

Due to safety and liability concerns, golf carts will be no longer allowed inside the gates of the HS/JH Softball and Baseball Fields. Please park in the lot area outside the fields.

Directions for tonight's (6/25/20) HS Softball game @ Van Buren. Go south on Hwy 1 into Keosauqua. Turn right onto Franklin St. (Rte J40) just after the hospital. Go about 1 mile west to ball fields.

The HS baseball games @ Home vs NL for tonight 6/22/20 are postponed and have been rescheduled for July 1st.

The HS softball games @ New London for tonight 6/22/20 are postponed and have been rescheduled for July 6th.

HS softball @ New London and HS baseball @ home (6/22/20) will play Varsity first @ 5:30 followed by JV.

HS Baseball @ Home and Softball @ L&M games will have Varsity start at 5:30 pm followed by JV.

Final elementary homework/library book drop off! Wednesday, June 17th and Thursday, June 18th from 8AM - 4PM in the circle drive. Drive up and drop off in the designated boxes for each grade and library books.

Reminder that anyone attending the high school baseball or softball games this season are asked to practice social distancing and bring a lawn chair. There will also be no concessions.

State Parent/Guardian Technology Access Survey Danville CSD Parents and Families, The State of Iowa would like to ask you about technology access for your household. This information will help in planning for next school year, should learning from home need to occur because of the COVID-19 pandemic. We understand that many of you have already filled out a survey that we sent out earlier. Our district encourages you to complete this survey so your technology barriers are known to the State. • The survey should take less than five minutes to complete. • The survey only needs to be taken one time for your entire household. • In your responses, only include students who will be in grades preschool through twelfth grade, or participating in post-secondary education, during the 2020-21 school year. • There is a drop-down in the upper left corner of the survey to change the survey language from English to Spanish. If your household needs the survey in another language, contact Superintendent Thomas Ward at
thomas.ward@danvillecsd.org
Please click on the link below to take the short survey about the learners in your household. The survey will be available through June 24th.
http://bit.ly/iowatechsurvey
If you have any difficulties while completing the survey, please email
support_iowa@panoramaed.com
, or contact our Superintendent Thomas Ward at
thomas.ward@danvillecsd.org
or Technology Coordinator Lucas Gourley at
lucas.gourley@danvillecsd.org
. Thank you for providing this essential information! Danville Community School District

The Danville Board of Education presented retiring Elementary Principal, Steve Ita, with a plaque, lifetime pass and a cake at the June meeting.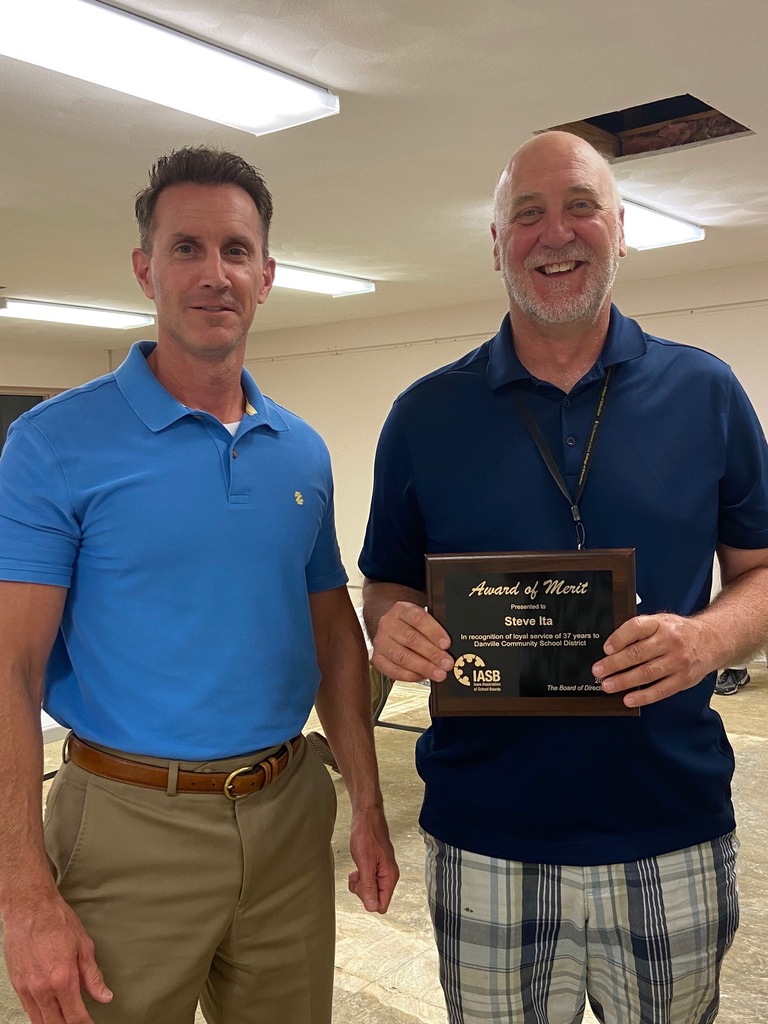 Join us tomorrow, Sunday, June 7th at 2:00 on Facebook for a Livestream of the 2020 Danville High School graduation.

High School Baseball players first baseball practice is June 1, 2020 at 5:00 pm. Meet at the baseball field.

Danville Commencement Ceremony will be held on Sunday, June 7 at2:00 PM at Harmony Church in Danville.  Students will be allowed to have 6 guests. No assigned seats but chairs will be available for families. More info coming soon. Thanks for your patience through this process.

Danville High School has cancelled the 2020 Junior-Senior Prom that was to be held on June 26. Students that paid by check or cash for their dates or for themselves will be receiving information next week on getting your money back.

JH/HS-Tomorrow, Friday, May 22, is the last day to turn in your school computer and books. If you missed your scheduled time, come tomorrow between 8:30 and noon. If you do not come in, your school computer will be disabled. Email
john.lawrence@danvillecsd.org
with questions.

The JH and HS book/computer drop off has been going great. If you would like to come in earlier than scheduled, you may do so. We will not be here from 12:00 - 1:30 each day. We will still be social distancing, so you may have to wait a little bit if we are busy.