If your going into 9-12 grades and are interested in wrestling this year you must attend an open gym. They are offered as follows : on Thursday at 6;30 at the wrestling facility ( 1404 Mt Pleasant st. in west Burlington) and then again on Sundays at Noon. Check with Coach Plein 319-759-8025 about Sundays as they are subject to change OR with any other specific questions. Any general questions can also be directed to Kirk Soukup =
kirk.soukup@danvillecsd.org
or 319-750-2496.

There will be NO JH boys basketball open gym Wednesday 7/6/22.


You must purchase a ticket on line at the IBHAA if you plan on attending the HS District Baseball game at Keota Saturday 7/2 .

HS SOFTBALL AT WEST BURLINGTON TONIGHT MONDAY 6/27 WILL BE VARSITY ONLY STARTING AT 6PM. HS BASEBALL WILL BE A JV/V STARTING AT 5:30PM.

Senior Night for HS Softball and HS Baseball will be on Thursday 6/23 as follows: HS Softball at 5:25pm before varsity doubleheaders and HS Baseball before the Varsity game.

The JH Softball game that was scheduled tonight at NL will now be played on Wednesday 6/22 not Friday because of a scheduling issue at NL.

The JH Girls game with New London at new London had to be postponed tonight and was moved to Friday 6/24 at 5:30 (one game) at New London. New London was short players.

THE LOCATION FOR OUR JH SOFTBALL GAME AT FAIRFIELD ON TUESDAY 6/21 IS Behind THE Middle School....404 West Fillmore, Fairfield 52556.

TONIGHTS WEDNESDAY 6/15 HS GAMES WILL BE AS FOLLOWS: HS SOFTBALL VARSITY ONLY WITH A 5:30PM START. HS BASEBALL VARSITY AT 5:30PM FOLLOWED BY JV.

We Are Hiring! Here is the list of needed teachers and support staff at Danville CSD for the 2022 - 2023 school year. Interested individuals can apply through the Teach Iowa website or send email questions or inquiries to Debbie Bennage at
debbie.bennage@danvillecsd.org
. Go Bears!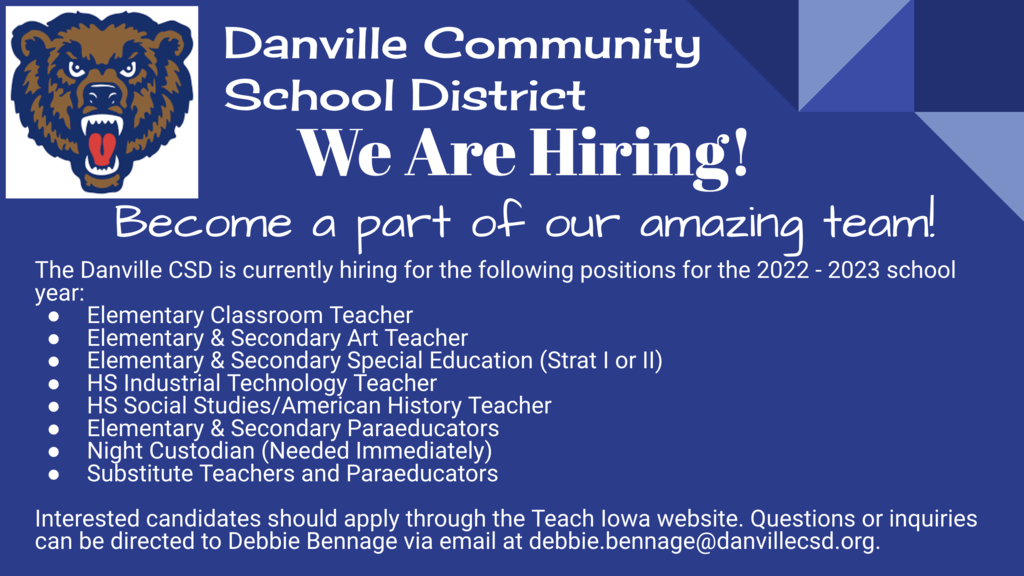 HS SOFTBALL AT HILLCREST ON TUESDAY 6/14 WILL BE VARSITY ONLY STARTING AT 7PM.

THIS WILL BE THE AGENDA FOR THURSDAY 6/16 HS BALL AT DANVILLE:2 JH Baseball games at 5:30 2 JH Softball games at 5:00 1 Varsity Softball game starting around 8:00 NO VARSITY BASEBALL

JH Boys going into grades 7&8 next year will have basketball open gyms on Wednesdays 5:45-7:30 in the jh gym. Use the athletic doors to enter the building.

The JH VOLLEYBALL OPEN GYMS ARE ONLY ON TUESDAYS. JH BASKETBALL OPEN GYMS ARE ON MONDAY AND THURSDAY.

HS AND JH GIRLS VOLLEYBALL OPEN GYMS ARE OFFERED ON TUESDAYS AND THURSDAYS FROM 9AM-11AM IN THE HS GYM IF INTERESTED.

Monday, June 6 - Tonight's High School Softball and Baseball games are now varsity only and starts at 6:30.

JH BASEBALL will play their games at Hillcrest HS on TUESDAY 6/7. STARTING AT 5:30PM. The following address=1421 540th st sw kalona iowa.

Even though the 2021-2022 school year has just officially ended and summer is barely under way, many of our Danville teachers have already started preparing for next year. 25 Danville teachers spent Thursday and Friday of this week in training entitled "the Writing Revolution". We have had great conversations and lots of learning with some outstanding presenters from Great Prairie AEA this week. We are already looking forward to implementing our new learning with kids next fall!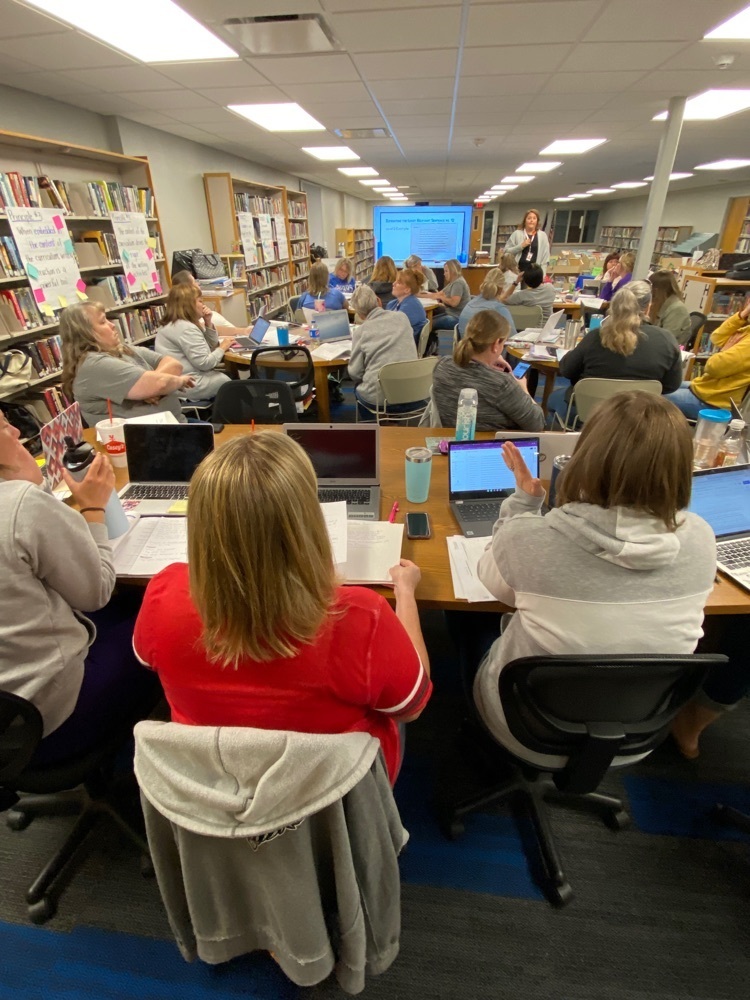 Update on the HS SOFTBALL GAMES FOR TONIGHT 5/31 IS AS FOLLOWS: POSTPONDED NO GAMES FOR HS SOFTBALL AT NL BECAUSE OF FIELD CONDITIONS..