First day of practice for HS Cross Country is 08/07. We will be meeting at the Danville track at 4:00 pm Mon-Fri. JH runners are welcome to come. The first official day for JH Cross Country is 08/23. If you have any questions or are interested in running this year contact Coach Gourley at
lucas.gourley@danvillecsd.org

Volleyball - Store closes on AUGUST 16 (Danvillebears.com)

All those in HS interested in playing Volleyball this year there will be a meeting on AUGUST 1 at 9am in the HS GYM.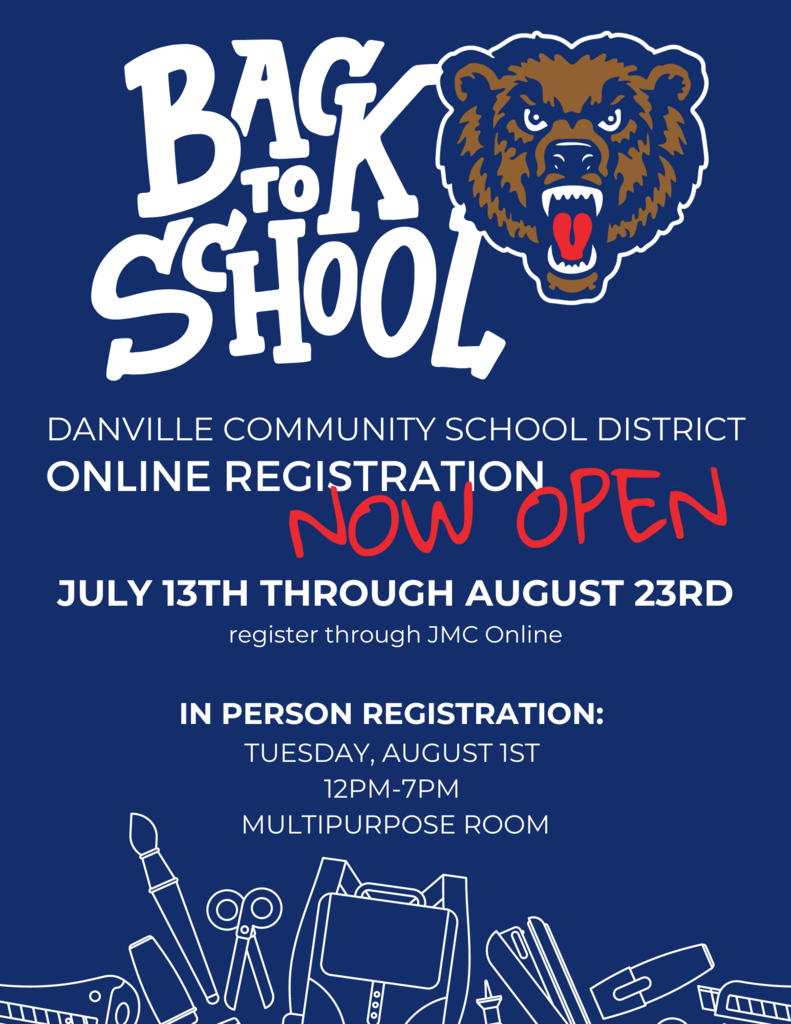 There will not be any open gyms for JH or HS VOLLEYBALL ON JULY 4.


The JH Baseball game today Wednesday June 28 at Danville vs ND has been canceled and will not be rescheduled.


JH VOLLEYBALL: (girls going into 7th or 8th grades this coming school year) will be offered open gyms on TUESDAYS and THURSDAYS In the HS gym from 11AM-12:30PM starting on JUNE 27 .

The post season games for HS SB/BB have been released: HS Softball plays on Friday June 30 at Durant vs Durant 7pm HS Baseball plays on Saturday July 1 at Sigourney vs Sigourney 7pm You will need to purchase tickets on line when they come out next week

The HS SOFTBALL TOURNAMENT HAS THE FOLLOWING TIME CHANGES FOR TODAY SAT. 6/17 AT HILLCREST..Columbus Junction backed out of of the tournament at the last min. Here are the new times of games: 10:00 am HA vs Danville 12:00 pm Danville vs English Valleys 2:00 pm HA vs English Valleys

The JH BASEBALL GAME SCHEDULED WITH ND AT DANVILLE ON FRIDAY JUNE 23 HAS BEEN MOVED TO WED JUNE 28 PER ND REQUEST STILL A 5:30 START.

The JH/JV/V Softball games tonight 6/15 vs HTC are played at southpark in west point iowa 4:15 JH/5:30 JV FOLLOWED BY VARSITY.

The Girls HS Softball Team is scheduled to play In a tournament Saturday June 17 at Hillcrest with a 10am game vs Hillcrest. Consolation game at 2pm and championship game at 4pm.

The Danville vs Notre Dame HS BASEBALL GAME that had a change in starting time from 5:30pm to 7pm is on Thursday June 15 not the 16th.

THE HS VARSITY BASEBALL GAME SCHEDULED AT NOTRE DAME ON THURSDAY JUNE 16 HAS MOVED ITS STARTING TIME FROM 5:30PM TO 7PM.

There will not be any JV Baseball games , Home or away for the week of June 12.

The HS Baseball team will only play a Varsity game at Mediapolis on 6/9/23 starting at 5:30pm NO JV GAME TO FOLLOW.

I just wanted to remind families that the State has picked the last full week of July 23-July 30 as a non contact period that coaches can not have any involvement with the Athlete . We were instructed that the Last week of July will continue to be that no contact period if your looking for a good time to take vacation in the future years.