Here is today's Bear Necessities Video Vlog, featuring some of our 4th Grade students and their "bottle" projects. Check out what has been going on at Danville this week. Go Bears!
https://youtu.be/1Frnbqo_kto

Just a reminder that all Danville Elementary students in grades 3 - 6 will be taking the Iowa Statewide Assessment of Student Progress (ISASP) April 20th - 26th. Students will be tested in Math, Literacy, Language Arts/Writing, and Science (5th Grade Only). A good night's sleep and a healthy breakfast each morning will be very beneficial for our students. Go Bears!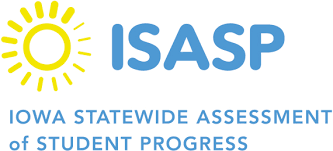 Online Ticketing – All tickets to the state qualifying and state meet will be sold through Hometown Ticketing. STATE Qualifying HS TRACK meet tickets are now on sale. State meet tickets will go on Monday, May 16. Please share this link with your athletes and their families to help direct them to the correct place on the IHSAA web site:
https://www.iahsaa.org/tickets/

THE HS GIRLS TRACK MEET AT CENTRAL LEE TODAY 4/18 HAS BEEN CANCELED AND WILL NOT BE RESCHEDULED.

Here is this week's Bear Necessities Video Vlog. Check out this exciting news from one of our favorite 5th graders! Go Bears!!
https://youtu.be/2B2YiQnccSU

Pies On Parade pies can be picked up today, Thursday Apr 14th, from 3:00-4:30 by the bus barn.

For the JH Choir Festival at Mediapolis: Due to road construction on Pleasant Grove Road and Mediapolis Road, when travelling from Danville to Mediapolis, please take the following route: Take Danville Road to Mediapolis Road. Take Mediapolis Road to Iowa City Road. Turn Right onto Iowa City Road Take Iowa City Road to 210th Street (Gypsum Plant Road). Turn left onto 210th. Take 210th to Highway 61 Another route would be Highway 34 to Highway 61 to Mediapolis.

The JH Choir will be attending the Festival in Mediapolis tomorrow. Concert is at 6:30 pm.

Happy Friday! Here is today's Bear Necessities Video Vlog featuring some of our sixth grade students. Check out what is going on in 6th grade!
https://youtu.be/UHK4t1S2vpQ

We are very lucky to have outstanding Paraprofessionals throughout the Danville School District. We would like to take this opportunity to honor them during Paraprofessional's Appreciation Week!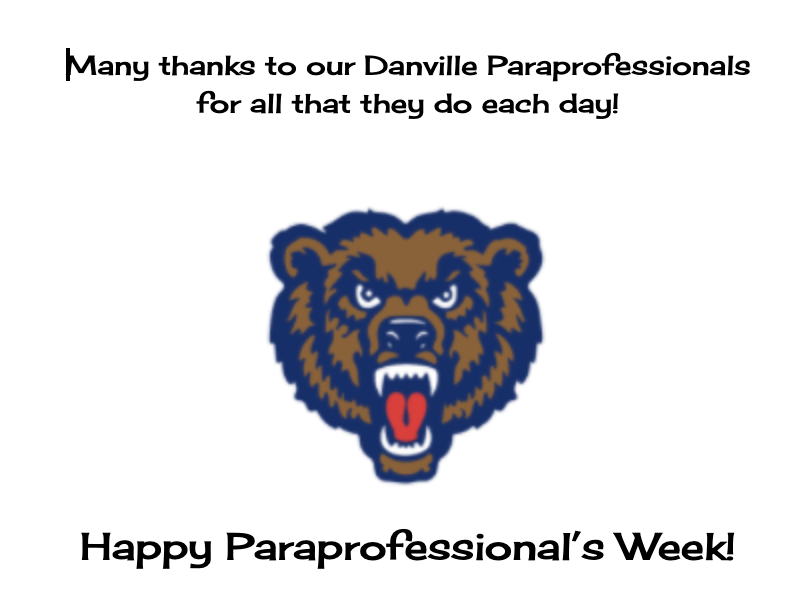 The JH COED TRACK MEET AT LONE TREE THAT IS SCHEDULED FOR FRIDAY 4/8/22 HAS BEEN MOVED TO 4/12/22 SAME TIMES.

West Burlington is going to cancel their HS coed track meet on thursday 4/7 due to wind chills projected in the low 30s. There will be no make up date for this meet.

A reminder for all Kindergarten parents… Kinder students will not have school on Wednesday, April 6th due to Kindergarten Round Up for the 2022 - 2023 school year. Regular Kindergarten classes will resume on Thursday, April 7th. Thank you!

THE JH COED TRACK MEET SCHEDULED FOR TODAY 4/5/22 HAS BEEN CANCELLED BECAUSE OF THE WEATHER FORECAST.

Check out what is going on at Danville Elementary! The latest edition of the Bear Necessities Newslettter is now available here:
https://www.smore.com/9xur7


Don't forget… today (Friday 4/1) is PAJAMA DAY at Danville Elementary. We smashed our 3rd Quarter PBIS goal, so we get to celebrate today! Wear your pjs and have a great day!

THE HS COED TRACK MEET SCHEDULED FOR 3/31 AT DANVILLE HAS BEEN CANCELLED DO TO THE WEATHER FORECAST AND WILL NOT BE RESCHEDULED.

Here is today's Danville Elementary Bear Necessities Video Vlog. Check out what our special guests from 6th grade have to report about this week at Danville. Go Bears!
https://youtu.be/D2hXtpDwYXA

Please mark your calendars.....Danville Kindergarten Round Up is coming soon! Round up is scheduled for Wednesday, April 6th from 8:30 a.m. - 11:00 a.m. There will be no regular Kindergarten classes that day! All incoming Kindergarten students for the 2022 - 2023 school year are asked to attend. If you missed Kindergarten Information Night but are interested in the Danville CSD Kindergarten program, please call Alice at 319-392-4221 for registration information. The deadline to open enroll all Kindergarten students is September 1, 2022. Go Bears!